What's the Best Feng Shui Gua to Have a Home Office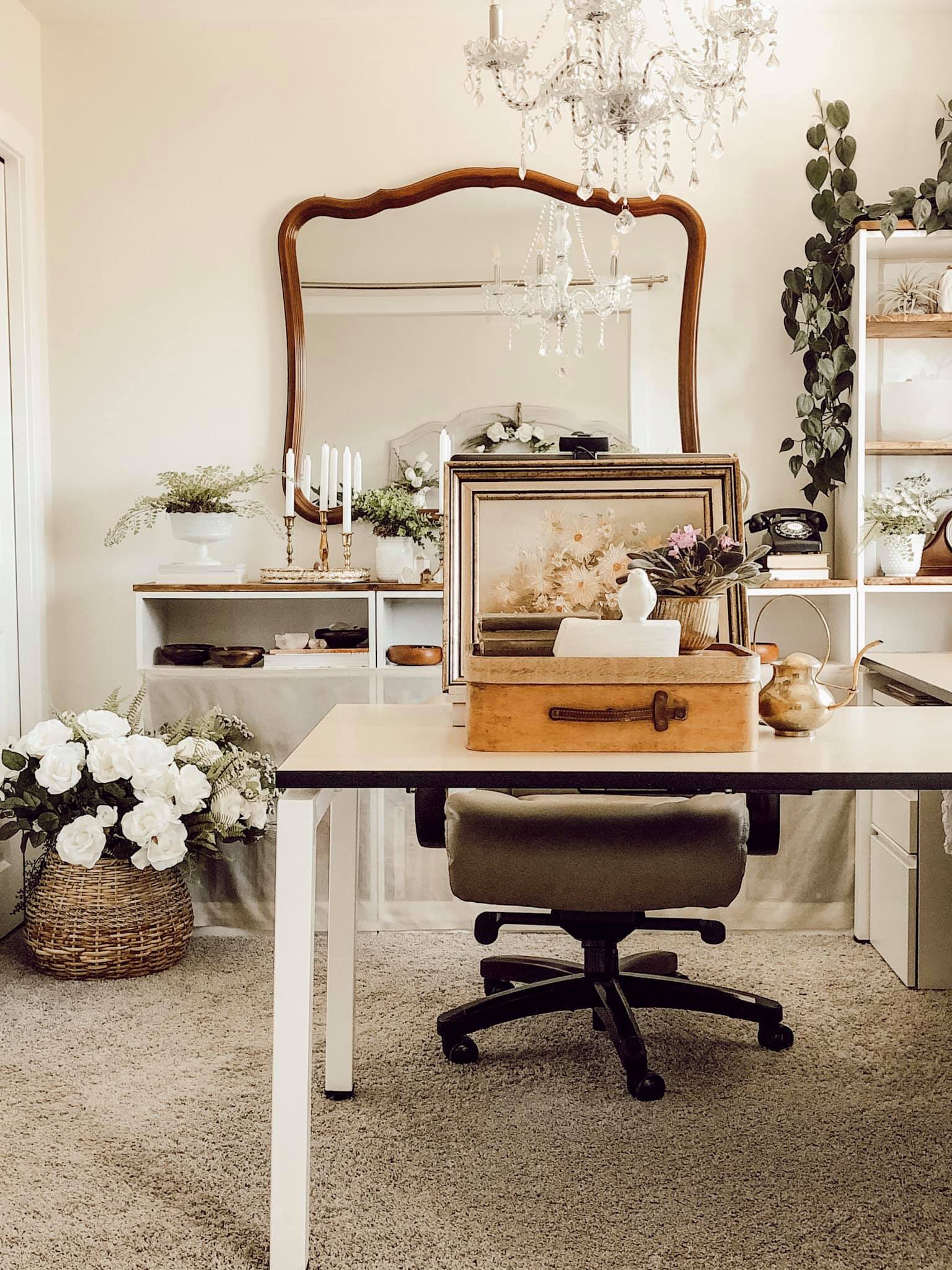 I needed a little spring refresh for my office. I wanted woodland ferns reminiscent of my childhood and dappled light and dancing rainbows. It's the one place in our home that I spend the most time in so I wanted to be just as cozy as all the other rooms.
This is the view from my studio. When we purchased our three bedroom, two story we knew I'd need the two back spare bedrooms for my business, so we opened the wall by 6 feet between the two rooms to accommodate my business needs.
Eventually we'll hang barn doors between the rooms, but for now, I've hung a drop cloth curtain that can be closed on evenings when our granddaughter sleeps over. The sofa in the studio is a sleeper, so it makes the space so multi-useful.
Do you have/need a home office? If so do you know gua that your office falls in?
My office currently sits in the Wealth and Prosperity Gua which is associated with the Wood Element and supported by both the Water and Earth Elements.
Can you identify how I've enhanced my office with the most appropriate elements?
Unless we're designing the location of a home office during a new build or major renovation most of us simply opt to utilize the first empty room or nook tucked into the most convenient and available space. Which may or may not be energetically aligned to the nature of your business.
In my case, I had the option to place my desk in 1 of two guas, Wealth and Prosperity of which it sits or Love, Marriage and Relationship.
I chose WP for my office as it is better suited to the intentions of how I use my office. This is where I take client calls, Consult with Distant Feng Shui Clients, answer emails, blog, do my social media work, my book work, banking, etc. Sitting in the Command Position with my back to the wall of bookshelves I am well supported and in command of my business.
My studio space which is where I do all my distant personal and space clearings sits in the Love, Marriage and Relationship Gua. The energy of this space is best suited for deep healing. It is a gentle and nurturing gua grounded in unconditional love and compassion. The perfect place for the type of work I do in the space and associated gua.
I'm often asked "what gua/s is best for a home office. As usual, my answer is not that simple. Although, Helpful People and Travel and Wealth and Prosperity are excellent guas to have an office in as Helpful People are your network and client base that support and feed your Wealth and Abundance. These two guas are deeply connected in support of the other. However, it's important to consider the type of work you will be doing in the space.
For example;
1. Someone in the creative arts might be best supported with an office in the Children and Creative Gua.
2. Someone who is in the healing arts may be better served with their office/treatment room in Family and Health or Center of Health or even Knowledge and Self-Cultivation for that matter.
3. A freelance web designer or branding expert may be best served with an office in Fame and Reputation as would a Public Personality.
It truly is all about 306 249 2064