Feng Shui –  Help! Bathroom in the Family and Health Gua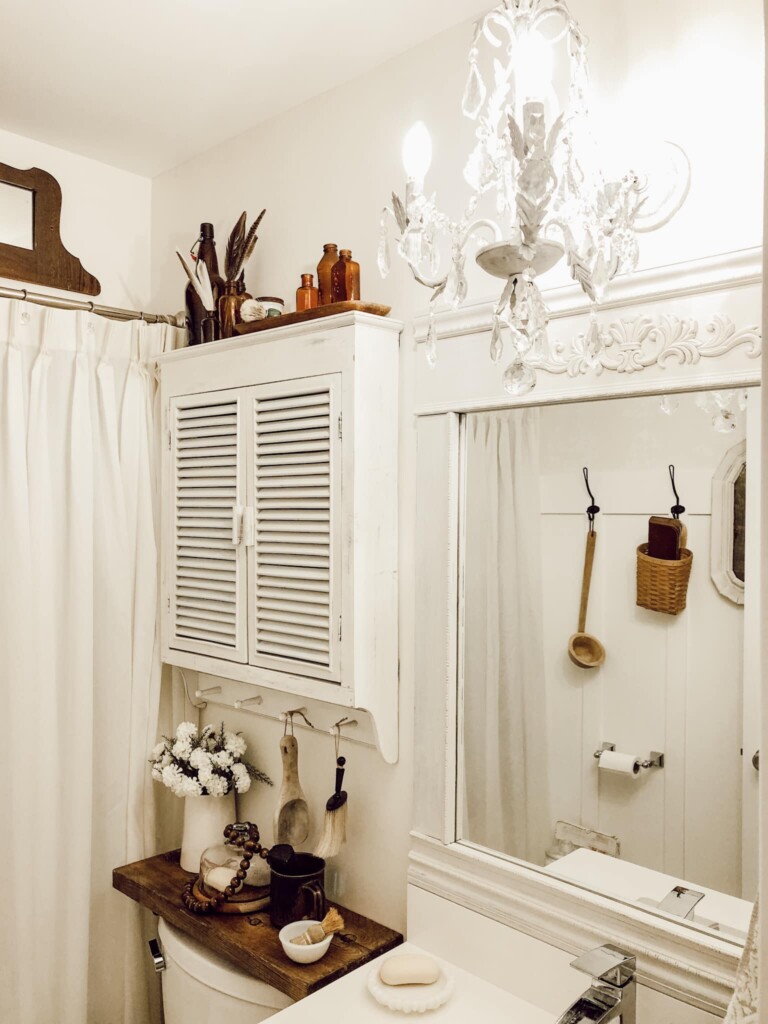 🤦‍♀️ oh no, my bathroom is in the Family and Health gua! What do I do?
Well, FH is a wood gua so the 💦 of all the plumbing will help the wood 🍃 flourish. You can use the earth element to help nurture the wood giving it strong roots and control the water.

Earth
In our bathroom I painted the walls cream which is earth, hung cream drapes over the tub which stay closed all the time, we have cream towels and I painted the cabinets cream as well.
I added a wood shelf stained dark walnut (earth in colour) over the toilet to display pretty vintage bathroom decor. The pitcher of flowers is earthenware. The amber glass bottles are earth in colour. The Epsom Salts are earth. The toilet and sink are porcelain which is earth. The flooring is a soft linen colour also earth in colour. It's also flat like the earth. Just kidding, no but really a flat surface is considered earth.🙃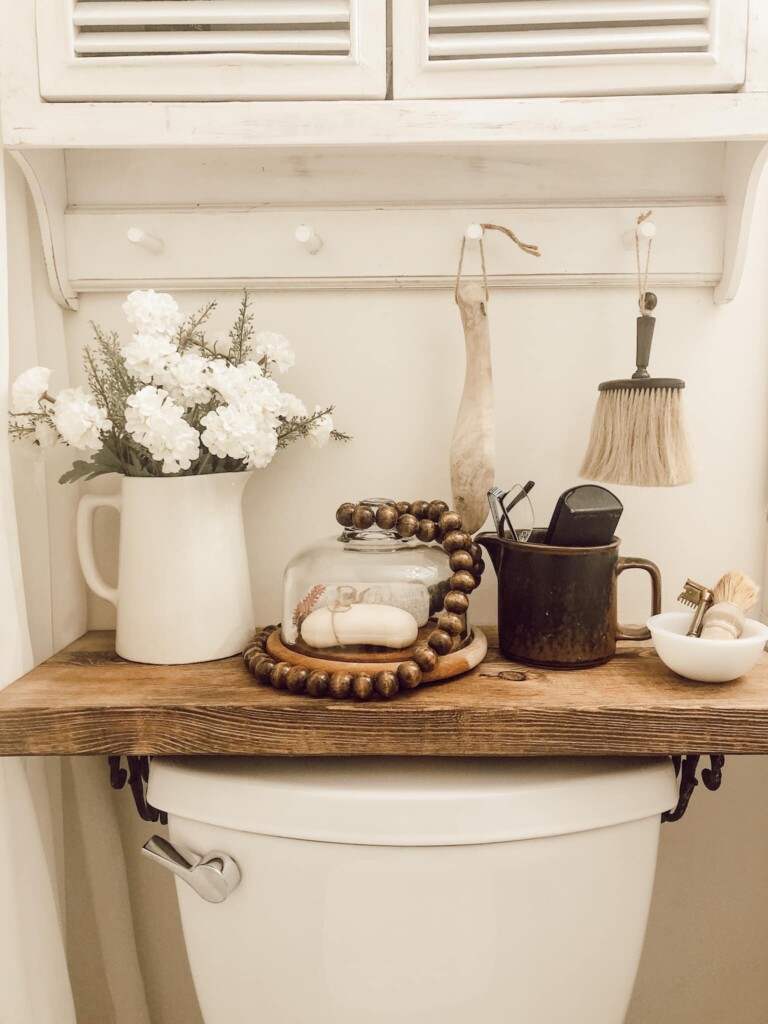 Wood
The vertical board and batton represents the wood element in shape and material. The cabinets are wood, the towels and bath mat are cotton (wood), the faux flowers are wood, the damask stencil on the wall is floral (wood) the wicker basket and wood shelf and accessories are (wood). The framed artwork on the wall is a wooded landscape (wood), the little chair (wood).
Tada – other ways I've controlled the pull of the drains is by adding details that draw the eye and energy up in, the wood appliques on the cabinet doors and on the mirror, the Damask stencil, the shape of the mirror over the tub, the feathers in the amber bottles, the growth pattern of the faux flowers and the arch of the wall art.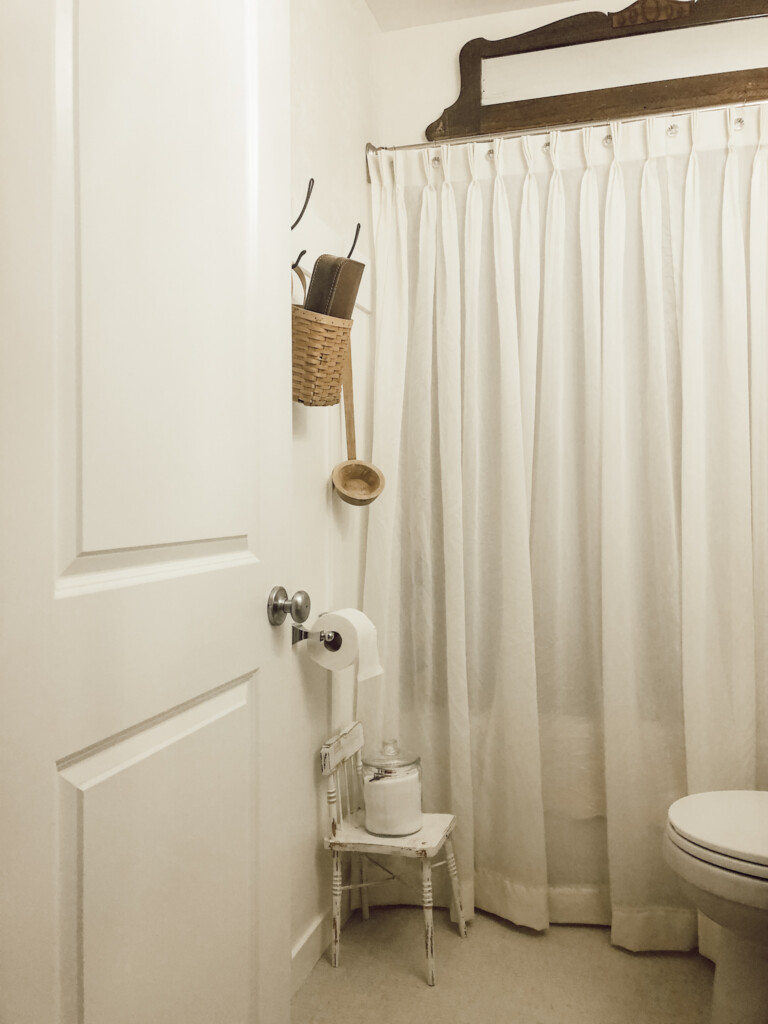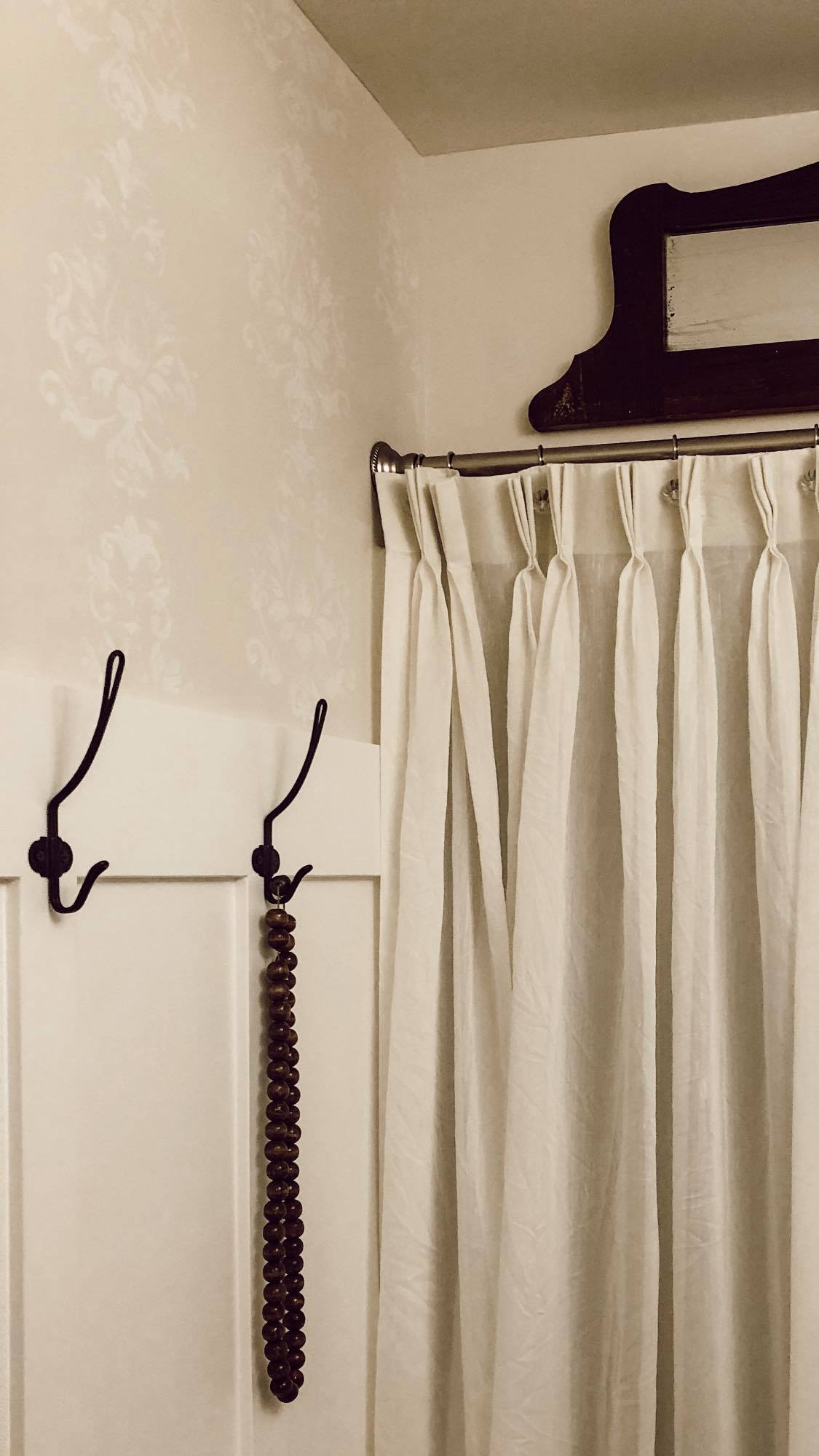 Balance it can be achieved in any bathroom.
Here's a breakdown of other elements present.
Metal
Colour of tub, sink and toilet
Light fixture
Taps and toilet paper caddy
Vanity top is quartz so it is metal.
Fire
The light
The shape of the damask and the wood appliques on the cabinet doors and mirror
The vinyl floor is fire in material
The nylon shower curtain and plastic liner are also fired in material, not colour
The cows and man in the artwork fire
The feathers
Water
Well it's a bathroom
Mirrors
Glass in artwork
Amber bottles and lid of soap caddy