A Client's Lamp – This or That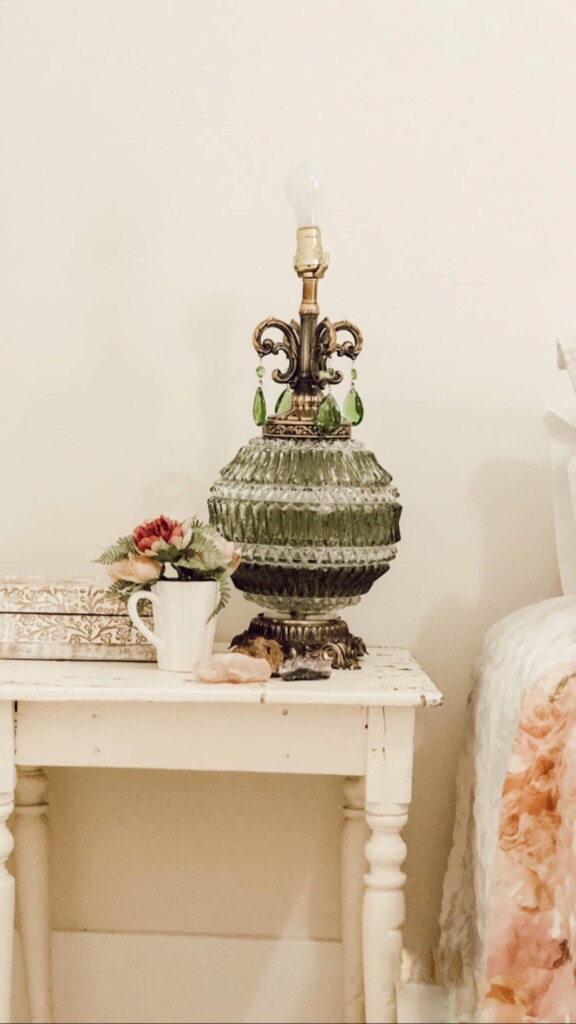 Yesterday I was asked why there were no lampshades on the lamps in my client's bedroom and living room, being that Feng Shui is intentional with everything having a reason. A good question and a good eye. 😉
There is a reason but it's rather a mundane one that you may even laugh about for the reason is so simple.
Remember we only had 3 days and a lot to accomplish. My client lives in a small rural community with no amenities to do in-the-moment decor shopping.
She had these beautiful working vintage green lamps stored in her porch. The shades were dark brown and broken so she thought they were garbage.
I saw something beautiful with loads of potential. I loved the detailing in the brass and how it went so beautifully with the gold wall mirror and vintage gold framed mirror trays I brought for her. The green Crystal bases bring the romantic feel she so desired and reflect light throughout the room.
So I cleaned the bases up, polished the brass and put what we had for light-bulbs in the socket and wala we have a beautiful vignette! If I had the time and the resources to recover the shades I would have. But I didn't so I didn't. 🙃
She will replace the light-bulb with a medium base LED Chandler bulb so it looks like a candle so she won't need a lampshade unless she wants one. All lamps don't need a lampshade to be Feng Shui friendly or beautiful.
Here's what I did with her permission. I removed the university student Walmart lamp (store photo attached, I'm sorry if you have this Walmart lamp 🙈) she had in the living room and put it in the donate pile and hauled the beautiful vintage lamps without the broken shades out of the garbage pile. This simple change in perspective made a world of difference in giving her the look and feel she so desired.
No shade, not a problem. Beautiful, you bet.