Front Entryway Spring Refresh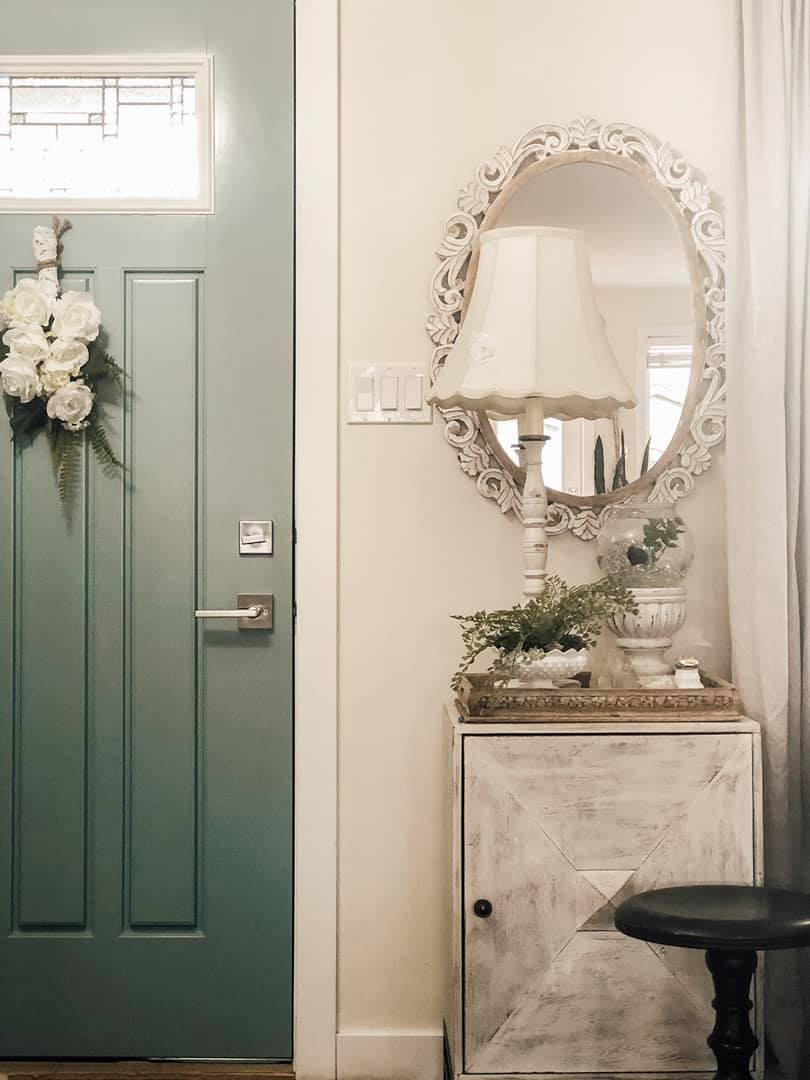 Our house is a skinny two story that's only 20' wide from outside corner to corner making it only 19'w on the inside. Although we love our home, the width makes it challenging to balance the Guas from side to side. The depth is not the problem; the width is.
One of the selling features we fell in love with is the expanse of the large windows across the front and back which flood the open floor plan with natural light. I know there's a lot of fear Shui about this type of floor plan and walls of windows and entryways that land directly into a living space, but you know me. I don't buy into it.
To me, every house needs love. You just have to know their love language. Yeah, I said it. Yeah, I like it. You need to know your homes love language and how to bring it to life in a way that makes everyone shine!
So being that I'm self-employed, cause I make my living through Feng Shui Design consulting and onsite and distant land + home space and personal clearings, (blogging and social media posts offering free lifestyle tips do not pay the bills, they do, however, help
build a community of which I am so very grateful to you all!)
My Honey and I like most people needed to make sure that the sliver of wall space that anchors the Career and Life Path Gua of our home was activated and enhanced to support both of our career and personal aspirations.
Represented by the water element I needed to do something to keep things flowing and here's how I did it;
1. I placed an oval mirror with an ornate scrolling frame on the wall between the entryway and the front window.
The water element is represented by; the mirror and the scrolling frame often described as undulating shapes.
2. A Beta fish bowl decorated with clear glass beads all of which represent water.
3. The scalloped edge of the thrifted lampshade depicts waves and therefore also represent water.
4. The milk glass candy dish the faux marsh-loving fern is in is glass also represents water although white is metal it is glass fist and foremost.
5. The marsh-loving faux fern represent a river bed and fresh flowing water.
6. The shape of the stray and the cabinet are earthy helping to direct and control the flow.
7. The cabinet although used for seasonal storage also houses a few memorabilia that depict our careers and personal passions.
8. The entryway doormat is also earthy in colour and shape and helps to ground the space and control the flow.
Now all this may be pretty and may appear to be enough to activate and enhance our career and life path Gua. It's not. I needed to support the flow and get things moving out in the landscape as well and that my friends is another post!
Feeling frustrated in your career or feeling unfulfilled in your pursuit of happiness? You may want to take a look at your career and life path Gua, centre front of your home to see how to activate and bring it into balance. If you need help, call me. Let's talk. 306 249 2064